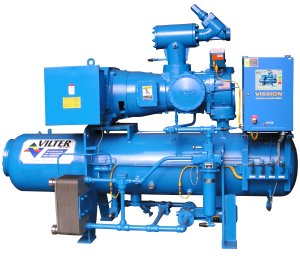 Compressors
We offer a variety of screw and reciprocating compressors from Vilter, Mycom. Frick, and many more. Screw compressors and reciprocating compressors come in many different shapes and sizes to fit your refrigeration needs.
Single Screw Compressors
We are an authorized distributor and service company for Vilter's single screw compressors. Their single screw compressor is a rotary, oil injected, positive displacement machine that can easily be placed into any existing system. They work with any of the commonly used industrial refrigerants.
Our single screw compressors come with the computer controls to regulate and monitor your machines compression.
Reciprocating Refrigeration Compressors
We offers four different lines of reciprocating refrigeration compressors from Vilter, the VMC 440, VMC 350ES and the flagship VMC 450 XL. The 450 XL is an extremely versatile compressor offering substantial saving per ton of refrigeration produced. It can operate at compression ratios up to 14:1 with certain refrigerants.
Authorized Distribution For:

Dealer For: