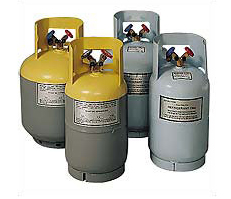 Commercial grade refrigerants
We supply the industrial and commercial food industries with refrigerants for all of their cooling needs. We provide refrigerants in bulk and in cylinders ranging in size from 24 lbs to 2000 lbs. All of our refrigerants are shipped in ASME certified vessels so you can be assured there will not be any problems.
Refrigerants for every system
The refrigerants we offer are used in air conditioning units and commercial refrigeration units for industrial and commercial refrigeration units. We can provide you with the refrigerants that you need as well as safely install them in your system. Our knowledgeable staff is available to help you find the refrigerant that meets your needs.
We offer the refrigerants you need to keep your systems cool.
Refrigerants
| | |
| --- | --- |
| R-11 | Trichlorofluoromethane |
| R114 | 1,2-Dichlorotetrafluoroethane |
| R-12 | Dichlorodifluoromethane |
| R-13 | Chlorotrifluoromethane |
| R134A | 1,1,1,2-Tetrafluoroethane |
| R290 | Propane |
| R-400 | R-12/R-114 (60/40 wt%) |
| R401A | R-22/R-152a/R-124 (53/13/34) |
| R404A | R-125/R-143a/R-134a (44/52/4) |
| R408A | R-125/R-143a/R-22 (7/46/47) |
| R409A | R-22/R-124/R-142b (60/25/15) |
| R500 | R-12/R-152a (73.8/26.2) |
| R503 | R-23/R-13 (40.1/59.9) |
| R-717 | Ammonia |
Authorized Distribution For:

Dealer For: