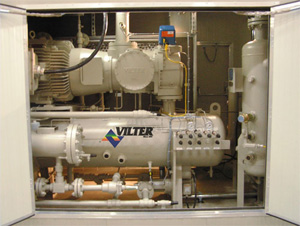 Valves
Control the flow with the proper valves
Valves control the flow of refrigerants, air flow and regulate suction pressure on refrigeration units. Properly working control valves in a refrigeration system offer the operators a sense of relief during start-ups, shut-downs, preventative maintenance, emergency response and system troubleshooting. When a valve fails, the whole system fails and could cause much higher costs or result in a potentially dangerous release. Prevent valve failure by keeping your equipment up to date with the latest valves from Petro-Chem.
Distribution of shut off and control valves
We are a leading Distributor for all refrigeration shut off and control valves from Ammonia Refrigeration to all of the Halocarbons. We stock and distribute valves from Vilter, Howden, Frick, Mycom, Grasso and Parker. Each valve sold to our customers is manufacturer tested, tagged, and comes with a warranty.
Authorized Distribution For:

Dealer For: