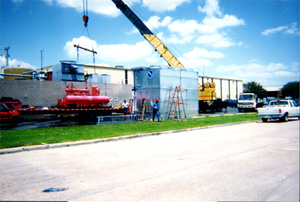 Quality & Reliable Service
Petro-Chem Refrigeration, Inc. is your refrigeration answer, whether it is industrial, commercial or cold storage. We are second to none when it comes to honest and reliable service, and our customer base shows it.
Our 24 hour emergency service is available to insure that anytime you go down, day or night, we are there to help.We go the extra mile in providing the service you need to keep your systems cool.
Our knowledgeable staff is trained in servicing ammonia and Freon equipment from Vilter, Parker, Grasso, Howden and Frick to just name a few. We are an authorized Vilter service center for parts and service.
Engineering & Construction
Here at Petro-Chem, we have top notch engineering support with many years of experience retro-fitting all types of petro-chemical and cold storage systems. When it comes to simplifying a complex system, making alterations to improve system's inefficiencies, or changing the way a system is operated, we would appreciate the opportunity to show you what we can do to help.
We are capable of handling most in-plant refrigeration projects. If it's installing a compressor, pumping vessel, inter-cooler, oil pot, or re-piping a system, we can minimize a plant's down time by utilizing our Ammonia or Freon pump-out machines and receivers.
Trained to Improve Your System
We are staffed by skilled refrigeration technicians who have been trained and certified in servicing all types of refrigeration equipment. Some of our services include the altering of your system to get optimum performance, installation of all types of equipment, inspections, start-ups, repairs and maintenance of refrigeration equipment, Freon and Ammonia recovery, overhauls, and all stages of mechanical rebuilds.
Our technicians have received certifications at Kansas State University, University of Madison-Wisconsin, Garden City Community College, Vilter Single-Screw and Microprocessor School, Houston Area Safety Council, Contractors Safety Council of Brazosport, and Industrial Safety Training Council of Baytown.
Authorized Distribution For:

Dealer For: